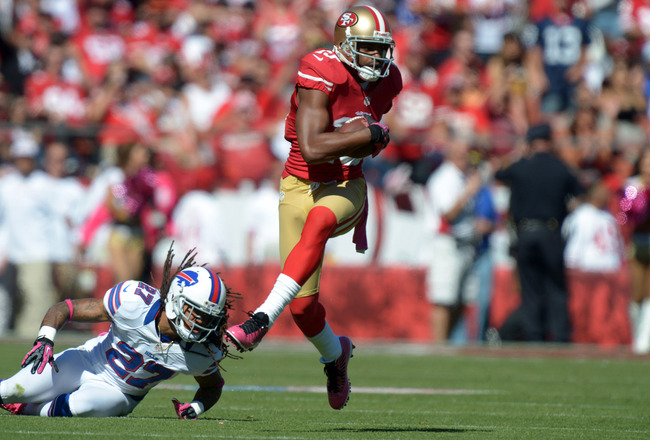 The Bills latest attempt at pass coverage.
It's been two weeks, but I'm back, and (legitimately!) better. Over the past two weeks, I've nailed my overall picks (21-8) and stayed steady against the spread (15-14). Looks like I'm close to figuring out this season...
Which, of course, means I already screwed up my first pick of the week, taking the Steelers to cover and win. As a result of some bad coaching by the Steelers, the Titans won by three. Well, whoops. Time to soldier on.
Cincinnati (-2.5) at Cleveland
This Bengals team doesn't have quite the mojo it did last year; Andy Dalton is struggling without a running game, and the defense isn't covering up his mistakes as well as it did last year. The Browns, meanwhile, have yet to get a win this year, but they're not as bad as everyone thinks. Well, they're not 0-16 bad. They have to get a win
sometime
, and they've been playing better as of late, so, why not? Cleveland gets a W, followed by another long losing streak.
Pick: Browns win, cover
Indianapolis at NY Jets (-3.5)
Though the Jets put up more of a fight last week than expected, this is still a broken football team without Darrelle Revis. Sanchez and Tebow are in a race to the bottom at quarterback; their best receiver is Jeremy Kerley; and they have a commitment to ground and pound football straight from the 1950s. The Colts, on the other hand, are plucky and playing for their leukemia-stricken coach (yes, it's insensitive to say, but it is motivating the Colts- just watch the postgame from their win over the Packers). New York seems to be getting the points here because they're at home, but I fail to see the advantage 80,000 angry, drunk Jets fans will give the team as they relentlessly boo Sanchez. So I like the Colts here.
Pick: Colts win, cover
Kansas City at Tampa Bay (-4)
You could only get me to watch this game if you strapped me in
Clockwork Orange
style. The Buccaneers relish in playing boring football (or, GRITTY NEVER SAY DIE CHARACTER BALL BY COACH GREG SCHIANO), while the Chiefs
have not led a game
yet- their one win came in overtime. Tampa Bay has more talent on both sides of the ball and Kansas City is starting Brady Quinn. at quarterback. Seems easy enough.
Pick: Buccaneers win, cover
Oakland at Atlanta (-9)
Oakland is just a terrible team. And they're playing across the country against one of the best teams in football right now. While those two sentences should be enough, fine, I'll say a little more: Oakland's corners are awful, and the Falcons have really good receivers. On the other side of the ball, the Atlanta defense is sturdy, and the Raiders have a quarterback who looooooves to throw interceptions almost as much as Ryan Fitzpatrick and Michael Vick's lovechild. I just don't see how the Raiders stay in this game.
Pick: Falcons win, cover
Dallas at Baltimore (-3.5)
Baltimore is one of the better teams in the league, but they have an odd tendency to play down to their opponents as well as not give the ball to their best player, Ray Rice. The Cowboys are coming off a bye, and the extra rest should be enough to keep them in the game- but not enough to win. The Cowboys defense has been extremely vulnerable, and Tony Romo is still finding new and ingenious ways to screw up in the 4th quarter.
Pick: Ravens win, Cowboys cover
Detroit at Philadelphia (-3.5)
With the emergence of the Vikings in the NFC North, the Lions increasingly look like they're going to be squeezed out of the playoff picture (I still believe in the Packers). Their secondary is horrible, and the lack of a halfway competent running game has left the offense too one dimensional to compete week to week. Philly, meanwhile, is a great team bearing the burden of a terrible coach. The Eagles should hand the ball off to LeSean McCoy 20+ times a game, but instead they allow Michael Vick free reign to turnover the ball as much as he wants! Since I can't figure out how good either of these teams are compared to one another, I'll just take the home team to win and the points.
Pick: Eagles win, Lions cover
St. Louis at Miami (-3.5)
I thought that at least if the Bills sucked this year, the Dolphins and Ryan Tannehill would too. But: they don't! The Dolphins solid defense and running game have led them to be 3-2, and they have the ability to stay in most games and beat bad teams. The Rams are by no means a bad team, but they're on the road, out of the comfort of their dome. I think the Dolphins pick up another win and further depress me with their competency.
Pick: Dolphins win, cover
New England (-3.5) at Seattle
New England's offense has spent the past six quarters absolutely rolling on offense (to be fair, two of those quarters were against the Bills). Their offense is, to use a hoary cliche, a well oiled machine. The Seahawks, though, relish the opportunity to throw sand into the machine, clog up the gears, and make the game ugly. Their defensive secondary and pass rush should do enough to slow down the Patriots; but their offense, led by Russel Wilson (whose closest comparison is Tim Tebow, because, improbably, they find a way to win in the end despite all empirical evidence pointing to them being bad quarterbacks) won't be able to keep up with even a sputtering Patriots team.
Pick: Patriots win, cover
Buffalo at Arizona (-4)
I imagine the Cardinals gathered to watch tape on the Bills and burst out in laughter throughout. The Bills aren't getting beat on defense by fancy schemes, trick plays, weird mistakes or pure talent; they just don't execute at even the most basic level. Apparently, "coverage" and "tackling" are optional in the defensive scheme, as well as "getting close to the quarterback." They just don't do those things. On offense, the Bills try running the ball about two times, and then they give up on it (or they're already down by two touchdowns because of their atrocious defense) and let Ryan Fitzpatrick try to throw deep passes down the sideline, always in vain. Goddamn, I hate watching this team. My fifth grade flag football team could score on this defense (I have a feeling even I, a slow offensive lineman, could burn Aaron Williams and Leodis McKelvin). Jim Kelly could come out of retirement and throw a better deep pass than Fitzpatrick. Hell, Jack Kemp could do it better from his grave.
The Cardinals have a good defense and their half-competent offense should be just fine against the Bills carcass of a defense. No, I'm not bitter at how this season's gone at all. I can't wait to sarcastically clap when the Bills allow less than 40 points. Can't wait!
Pick: Cardinals win, cover
Minnesota at Washington (-2)
Tough to figure this one out. The Vikings are good, but I don't know if they're good enough to improve to 5-1 on the road against a not horrible Redskins team. On the other side, RG3 is returning from a concussion and the Redskins defense has been decimated by injury. I guess I'm going with the Vikings in a close one. Just to complete an absolutely horrible weekend for Washington sports.
Pick: Vikings win, cover
NY Giants at San Francisco (-6.5)
Game of the week, by far. San Francisco's been the better team so far this season, but the Giants are...well, the Giants, meaning they constantly confound expectations. Like a six point spread for the defending Super Bowl champs. While both coaches have tried to play the "underdog" card this week- hell, they've competed for the title in an attempt to motivate their players- the 49ers have more to play for in getting even after last season's NFC Championship game. I think this will be a close one, high scoring, but I trust the 49ers defense to get a stop wayyyy more than I trust the Giants. In a close game, that's all that matters.
Pick: 49ers win, Giants cover
Green Bay at Houston (-3.5)
Green Bay's been less than impressive this season- Aaron Rodgers is struggling, the running game is a joke, and the defense hasn't improved much since last season. The Texans are one of two undefeated teams in the NFL- but they haven't played anyone
good
yet (sorry, Broncos). I'm feeling some upsets this week, so I think Rodgers puts on a vintage performance, shreds the Texans secondary, and wins a close one.
Pick: Packers win, cover
Denver at San Diego (PK)
The Broncos must be glad that their contract with Peyton Manning is only guaranteed for one year, because right now, at least, he just doesn't have the same skills as he used to. His celebrated cerebral-ism is still there, but his inability to throw with as much zip as he used to is killing him. He can dink and dunk down the field, but that does only so much. The Chargers aren't a great team by any means, but they have an effective offense and they're playing at home. I think they should take this one. My only reservation is that Norv Turner is still coaching the Chargers, and it's on national television. Never a good combo.
Pick: Chargers win
Last 2 Weeks (ATS): 21-8 (15-14)
This Week (ATS): 0-1 (0-1)
Overall: 45-33
Overall (ATS): 36-41-1