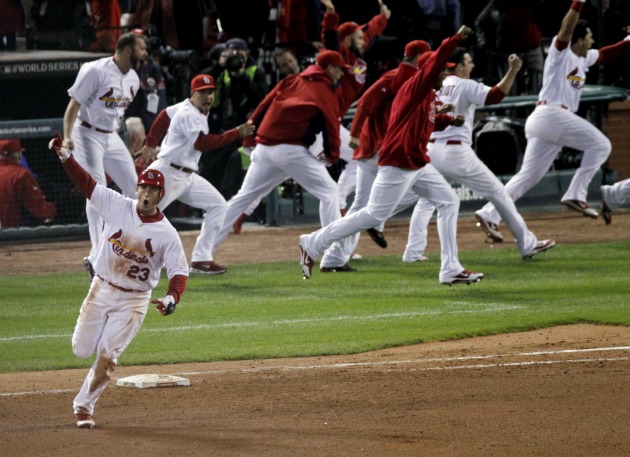 Just awesome. Even if you hate the Cardinals
Ok, so baseball is probably number three on my list of 'favorite sports,' and while I can always be suckered into watching a Cubs game on TV (and I can never deny the chance to actually go to Wrigley), if the Cubs aren't in it, then I lose interest. So much of a good baseball season is getting to know the players, their idiosyncrasies and their strengths and weaknesses. It's about listening to the local radio or TV guys and growing to love them in their homer-ism. The season is long enough to create these sustained storylines, and a playoff run is downright magical once you know so much about the team. With these playoffs, though, I had none of that connection. National broadcasts of teams that I frankly knew only on a surface level. (To be fair, I spend most of my summer in the woods, away from most baseball coverage, so I am at a disadvantage.)
The Cardinals are a hated rival of the Cubs, but damnit, I couldn't help but feel happy for them once Game 7 finished and they had won their 11th World Series. It's too good of a story to hate. The Cardinals were three games out of the playoffs with five games left in the season, managed to play themselves in (with some help from the free-falling Braves) and then beat the two best teams in the NL (the presumed favorite Phillies and the NL Central champion Brewers) en route to the World Series. Then came one of the best World Series of my lifetime. At first I held back from watching, because I didn't think I'd be interested (call me a bad baseball fan, fine, whatever), but the series pulled me in. Game 1 was an exciting 3-2 win for the Cards, Game 2 featured an ninth inning comeback by the Rangers for a 2-1 victory. I missed Game 3 up in the woods, but Albert Pujols showed off why he's one of the best of all time with a three HR opus. Game 4 feature Derek Holland's pitching gem that evened the series at 2 all. Game 5 was marked by Mike Napoli putting the team on his back as Tony LaRussa had communication issues with his bullpen, giving the Rangers a 3-2 lead in the series. Then came Game 6, which might be the most dramatic, best World Series game I have ever seen. It started sloppy, with both teams committing errors leading to a 4-4 tie. The Rangers pulled away to a two run lead behind back to back homers and seemed destined for their first title in the ninth inning, up 7-5. The Cardinals were down to their last strike. Literally. And they converted. There is nothing more dramatic than that- little kids dream about hitting home runs in the bottom of the ninth with only one strike left. That's something out of fairy tales. What happened next was, therefore even more ridiculous. The Rangers pulled away in the 10th, taking another two run lead, and the Cardinals, AGAIN down to their last strike, pulled back. Finally, in the 11th, they won on a walk off homer.
Sorry, who was saying baseball was boring? Because for every awful game of baseball we get, every four hour, 5-2 game, there's also brilliance like these games. Game 7 was nothing special- but of course, it had to follow Game 6, so it was dead from the start. But the Cardinals won. They were one pitch away from a losing the whole thing- twice. If you saw a movie with that sort of ending, you'd call it hacky or unrealistic. But we saw it happen. That's why we can still love baseball. There's no clock, nothing to tell us the game is over until the final out is recorded; there is an infinite amount of time for comebacks.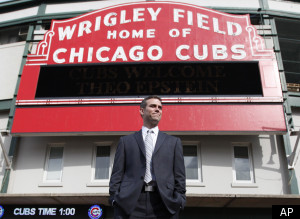 (Looks at roster) "What did I just get myself into?"
Onto some more Cubs-ish news, the Cubs successfully lured away Theo Esptein from the Red Sox (although it probably wasn't that hard to get him away from the circus that was the Red Sox over the last two months) and have installed him as the President of Baseball Operations (I love sports organizations, because they have ridiculous titles like that). Epstein promptly brought in a former protege of his, Jed Hoyer, to be the new GM. Listen, I'm very excited to have a new braintrust running the "Baseball Operations" of this team, because Jim Hendry has been struggling since 2008. He needed to be replaced, and Epstein and Hoyer are certainly sharper baseball minds at this point. But really, the unbridled optimism that has come with it needs to stop- there is a lot to fix on this team, and it won't be quick. Plus, we have no idea if Epstein and Hoyer will actually produce. Epstein was handed a pretty good team in 2003 when he took over the Red Sox, and then they won the World Series (twice). This Cubs team is nowhere near as good. They have no pitching ace and a weak rotation. The offense is a mess, with Starlin Castro being about the only consistently good hitter on this team. So it's going to take a ton of work to mold this team into a winner. And remember, Esptein was behind this summer's Carl Crawford deal, a mega contract which turned out to be a huge bust- something Cubs fans are used to (ALFONSO SORIANO...). Epstein is certainly not bulletproof. Hoyer's talent apparently comes in building a great farm system, which is a better move for the long term future, but he also presided over this year's Padres team, a 90 loss disaster. Things are looking better for the Cubs, but I wouldn't say anything is guaranteed. I guess we'll have to see in a couple of years. But watching last night's game, all I could think was, "I want that to be the Cubs. Sometime. Please." The waiting game will most likely continue.
Luke Adam and Captain Pominville celebrate a goal
Quickly onto hockey, where my beloved Buffalo Sabres have ripped out to a 6-3 start behind sterling play from their top line of Pominville-Adam-Vanek and an improving defense in front of a usually solid Ryan Miller (and finally, a dependable backup in Jhonas Enroth.) They started gang busters in Europe, with two wins over quality teams from the West, with eight goals over two games. The early season back in the States has been marked by some inconsistent play at home (two really annoying 4-3 losses) and mostly sterling play on the road. The team is rolling out three lines that can score, with the aforementioned top line doing most of the damage. Lindy Ruff's decision to put Luke Adam on the top line was brilliant- why not put the rookie with the best wingers and see what he can do? He's responded so far with three goals and five assists, giving the Sabres another dependable center that they desperately needed. The other lines are playing inconsistently but still are a threat to opposing teams, though free agent pick up Ville Leino has struggled early and asked to be moved back to the wing and Tyler Ennis was trying too hard with the puck before his ankle injury. Right now the top line is shouldering the load, but the other lines have enough talent to pick it up eventually, leading to a deep,dangerous scoring attack. The defense has markedly improved- Robyn Regehr is a pure defenseman who makes great plays in his zone. Ehrhoff has started slow but is a fixture on the power play and is no slouch on defense. Tyler Myers has had a maddening start to the season, littered with turnovers and bone headed mistakes, but it's early and he's adjusting to yet another new defensive partner. Jordan Leopold has stepped out as a very dependable fixture on D and the third pair of Sekera (who has played very well) and Gragnani (who is great on the power play but struggles in five-on-five) isn't being forced into big time, pressure situations. (I can only hope that Mike Weber starts to get more playing time instead of watching from the booth.) Ryan Miller has had some bad games, but has also been transcendent in stealing games from Montreal and a shutout in Florida. Enroth has been able to step in after poor Miller starts and get the job done. Overall, the team looks to be in good shape. If the offense gets more consistency from all the lines, the defense picks it up even more, and they can figure out whatever's ailing them at home, this should be one of the better teams in the Eastern Conference for the rest of the season. That's a beautiful thing to think about. This is a quality team, built for success. I haven't seen too many of that in my personal fan experience.
The Face of A Franchise?
(Exhales). Alright. Onto the Week 8 NFL picks, as my Bills return from their bye week (more on that in the preview). Last week I went 7-6 Overall and ATS. Kind of a rough week, looking back, with some real swing and a misses (like the Titans). Well, it's over .500, so I can take that.
Indianapolis at Tennessee (-8.5)
The Colts basically threw up a white flag in the first quarter of their game last Sunday and ended up losing 62-7 to the Saints. Which basically explains the size of this spread. But look at the Titans the last couple of weeks- they've imploded. Without Kenny Britt, the offense has stumbled behind the awful running of Chris Johnson and no pass game, and the defense has been destroyed. The Colts are an awful team, to be sure, but they can stay in this game. They've shown flashes of competence, and the Titans are nowhere close to the Saints. The Titans can bounce back this week for a win, but it won't be pretty.
Pick: Titans win, Colts cover
Jacksonville at Houston (-9.5)
Houston was supposed to have made some sort of grand statement last week in demolishing the Titans, but I'm still not convinced. This team is definitely good enough to win the AFC South (which is the second worst division so far), but they still lack, to me, a signature win that puts them among the NFL's elite. The return of Andre Johnson in this game, or soon, should help immensely, though. The Jaguars have a nasty defense, which uglies up the other team and keeps them in games. The Jaguars, even with their anemic offense devoid of talent at wide receiver, should be able to stick around long enough, thanks to Maurice Jones-Drew, to make the Texans sweat a little bit. Also, SHOUTOUT to loyal reader Ben Quazzo, a Jaguars truther who successfully predicted the Jaguars win in last week's column's comments. While the prediction might have been behind a layer of irony, you can't tell on the internet, so, good for you!
Pick: Texans win, Jaguars cover
Minnesota at Carolina (-3)
Christian Ponder actually showed a spark at QB for the Vikings last week, although it might've just seemed that good after seven weeks of Donovan McNabb. Ponder now goes on the road to take on the presumptive rookie of the year in Cam Newton, who has led the Panthers to two wins now and is good for about three or four awesome plays per game. It's scary to think about how good he is now and about how good he has the potential to be. The Panthers don't do much on defense, but their offense has been able to make up for it. The Vikings have a decent defense (with an awful secondary), and an offense that hasn't been trustworthy, especially since we haven't seen how Ponder will handle the road. In this case, I've got to take Cam and the Panthers to get the win at home.
Pick: Panthers win, cover
New Orleans (-13.5) at St. Louis
So, you saw the Colts-Saints game last week, right? The Rams are just as bad as the Colts, and are going without Sam Bradford this week. The Cowboys were able to trample the Rams last week, and I'd say the Saints are a step above the Cowboys in all respects. So, St. Louis, enjoy your World Series, because the Rams are brutal. Look for Drew Brees and co. to keep chugging along.
Pick: Saints win, cover
Arizona at Baltimore (-12.5)
Baltimore is coming off an embarrassing loss to the Jaguars. Suffice to say, they're going to be playing angry. The Cardinals D is a long ways off from being the Jaguars D, and the Cardinals offense with Kevin Kolb is just about as good as the Cardinals offense last year behind Derek Anderson. Which is to say, terrible. The Ravens should be able to fix any lingering offensive problems in this one.
Pick: Ravens win, cover
Miami at NY Giants (-9.5)
The Dolphins managed to lose a game last week that they were winning 15-0 in the final five minutes, in the process building the legend of Tim Tebow. That's a new level of futility. I feel like this team won't even fire Tony Sparano at this point because he gives them the best chance to lose and therefore get Andrew Luck. It's that kind of season in Miami. The Giants can be maddeningly inconsistent, but I don't think they'll be able to let this one slip; the Dolphins won't let them.
Pick: Giants win, cover
Washington at Buffalo (-5) (In Toronto)
Ah, the yearly Toronto game, the one which the Bills have never won since it started three years ago. The Rogers Centre is simply no home field- the fans are usually split 50/50 or are neutral observers. It's not a good atmosphere for a football game, and barely a Bills home game. The Bills are now entering the second half of the season off their bye with some lingering issues. They've lost Shawne Merriman for the season and the rumors about Kyle Williams are not optimistic. These two losses weaken an already poor defensive unit (Merriman wasn't getting much done on passing downs but he was an effective run stopper). I do think Arthur Moats should be able to step in and rush the passer effectively in Merriman's place. The offense is still good, and the return of key offensive linemen and receiver Donald Jones should help in the upcoming weeks. The Bills also just resigned Ryan Fitzpatrick for the long haul, establishing him as the face of the franchise. (I still worry that Fitzpatrick is streaky and maybe not fit for a long term role, but he's the best QB the team has had since Jim Kelly.) I would be worried about this game and all the injury trouble (especially on the offensive line), but the Redskins are starting John Beck at QB, lost Santana Moss for 5-7 weeks, and one of their running backs tore his ACL, leaving the team depleted on offense. The Bills defense might not be great, but they should be able to shut down the suddenly anemic offense of the Redskins, while the Bills offense should be able to put up points against a merely decent Washington unit. These are the games the Bills need to win in order to stay in what will be a crowded playoff hunt in the AFC.
Pick: Bills win, cover
Detroit (-2.5) at Denver
Detroit suddenly finds themselves slipping with two straight losses. Denver and their
walking religion metaphor
QB Tim Tebow managed to pull out an improbable 18-15 win last week over the Dolphins. Here's the thing, though- the Lions aren't the hapless Dolphins. Even without Matt Stafford (who's questionable at this point) and Jahvid Best, I would put the Lions above the Dolphins. Tim Tebow is, sorry, NOT a good quarterback- he has found ways to manufacture wins, but that's also come with the help of the rest of his team and in opposition to his poor mechanics and accuracy. Sometime, his luck has to run out, and I see it ending this week, even with the banged up Lions.
Pick: Lions win, cover
New England (-2.5) at Pittsburgh
This should be a great game. If you've listened at all to the hype building up to this one, you'd know that "Tom Brady OWNS Pittsburgh", going 6-1 in his career against Pittsburgh. I look at this one differently, though. Both teams have high powered passing offenses. The Steelers depend on the deep ball while the Patriots move down the field with ruthless efficiency in their two tight end sets. Now, the Steelers defense is not as good as it has been in years past, but I trust them way more to get a stop than the porous defense of the Patriots. They have better personnel, plain and simple. If the game comes down to a shootout, the Steelers have the better chance of making a stop. Which is why I like the Steelers to reverse the trend of Brady domination and win this one at home.
Pick: Steelers win, cover
Cleveland at San Francisco (-8.5)
I've bought into the 49ers as a legitimate NFC contender, and they should definitely take the NFC West. Cleveland could only score six points last week against the Seahawks (and should've lost due to a Seahawks special teams TD that was called back). The Browns have almost no offense and the defense is no elite unit. The 49ers have a great defense and an offense that doesn't make mistakes and scores when they need to. No chance for Cleveland in this one.
Pick: 49ers win, cover
Cincinnati (-2) at Seattle
The Bengals have been a good enough team so far, winning behind a solid defense and the heroics of Andy Dalton (never thought I'd type that). They grind out victories. The Seahawks are usually awful, sometimes managing to fluke out a victory. What makes me hesitate is that fact that the game is in Seattle, where, somehow, the Seahawks become a tough team. I'm not 100% confident, but I'm going with Cinci, because the Seahawks are fresh off scoring three points in an entire game. Sometimes home field just isn't enough.
Pick: Bengals win, cover
Dallas at Philadelphia (-3)
Philadelphia is coming off the bye and looking to continue climbing up the NFC East standings, and I feel like they've had enough time to iron out some of the mistakes that were plaguing them in the previous weeks. The Cowboys are able to beat up on bad teams (the Rams) but can't find a way against good teams, showing a special ability to snatch defeat from the jaws of victory. Not sure why I still trust Philadelphia, but I think their talent wins out here and they can outscore Dallas, even with Dallas' good pass rush- Vick neutralizes that.
Pick: Eagles win, cover
San Diego (-3) at Kansas City
The Chiefs have stormed back from the grave to bring themselves back to respectability and back into the AFC West race. The Chargers have meanwhile stumbled through their season, managing to win unimpressive games against bad teams (like the Chiefs a couple of weeks ago) and losing to good teams (the Patriots and Jets). I'm still going with the Chargers here, because the Chiefs have risen from the dead with plenty of luck, playing some very poor teams and playing the Raiders last week with Kyle Boller at QB (followed by a fresh off the street Carson Palmer) and without their best player, Darren McFadden. The Chargers received a wake up call with last week's bad, give-up-a-comeback loss, and now, with the division in the balance, I see the Chargers winning this one even if the Chiefs manage to keep it somewhat close.
Pick: Chargers win, cover
Season: 67-36 Overall, 52-49-2 ATS