"Hmmm, What Crazy Thing Could I Do Next?"
Oh, loyal reader(s). I know it's been a while since I've said anything on this blog, or talked about Buffalo sports, or even the Cubs/Bulls. I am sorry to all of you. I've been writing stuff over at mcgilldaily.com, if you want to check it out- and I'll be editing the sports section there next year. And the Sabres season- well, I'll leave that for another post, but suffice to say, things got dark. The Sabres figured that the best way to torture their fanbase was to get really close to the playoffs and then crap the bed. Their play over the last two months was awesome, but, of course, they went ahead and crushed me. And the Cubs, well, they just suck. At least the Bulls have been good.
But we've (and by that, I mean me and my one reader) have gone off topic. After an awful end to the 2011-12 season, the Bills went into free agency as...spenders? As Liz Lemon would say, Whuck? They
held Mario Williams in captivity
persuaded Mario Williams, the year's biggest defensive free agent and a premier pass rusher, to sign in Buffalo, giving him a huge 100 million dollar+ contract. Now in a 4-3 defense, they still needed another end to bolster the line (because Chris Kelsay, as much of a high character, motor guy as he is, IS AWFUL), so they went out and signed Mark Anderson, a 10 sack end last year for the Patriots. In previous years, the Bills would've
just
signed Mark Anderson and called it a day. Now, with owner Ralph Wilson opening his pocket book, finally, the Bills are spending to the cap and trying to change the culture of losing in Buffalo. Buffalo, like Green Bay, is always going to be a tough sell to free agents- so they paid a lot for Williams, and showed a commitment to winning.
But now comes the scary part. There are still holes on the team that need addressing in the draft. A good draft this year could really help the Bills get a wild card berth. Problem is, Bills GM Buddy Nix is f*cking crazy. In last year's draft build up, I likened him to Charlie Day in "It's Always Sunny in Philadelphia"- the guy who cuts the brakes on the van and yells "WILDCARD, BITCHES! YEE-HAW!" (See, it works because Buddy Nix is southern, too!)
Which is a roundabout way to say that Buddy Nix is capable of ANYTHING on draft day. Sure, last year he went safe and picked Marcel Dareus with the third overall pick. BUT LET'S NOT FORGET that two years ago, he went absolutely bonkers and picked CJ Spiller ninth overall when we already had two quality running backs on the roster. He also likes to pick these players that match his measurables fetish- if a player is just the right height and weight, Buddy falls in love with him.
The Bills have some definite needs to fill. Here they are, in no particular order: OT, CB, WR, LB, OG, QB. Hell, I'd even throw another TE in there, since having another big target would be a boon to the Bills.
Anyway, the Bills sit at pick number 10 at what has been called a "4 player draft" by some. There are no sure things (as much as that can be assumed before a draft) past Andrew Luck, Robert Griffin III, Trent Richardson, or Matt Kalil. The rest of the draft? No one's quite sure on any of the prospects. It's been said that every team from pick three to sixteen wants to trade down. With that kind of desperation, the amount of rumors have been ridiculous. I really wouldn't be surprised at any player being linked to the Bills. Hell, if the draft were a month away, I assume that a report would come out linking the Bills to picking me.
So, the Bills have been linked to tons of players, possibly in an effort for someone to trade up to their pick. With that I'm mind, I'm taking everyone the Bills are 'linked' to selecting at ten and ranking how I would feel about each one.
Guys Who Probably Won't Be There, But If They Are, They've Gotta Take Them
Beast mode.
Matt Kalil, OT, USC
Justin Blackmon, WR, Oklahoma State
Morris Claiborne, CB, LSU
The Bills have big needs at all these positions, and these are the best players at each position. Claiborne seems to be a lock for a pick in the top five. The Vikings, at three, have been linked to Kalil for months now. The Vikings, though, also really want to trade down, and have been trying to drum up interest by saying they might pick Blackmon or Claiborne. They have a really solid OT sitting there, right in front of them, and they are wrinkling their noses at him. Still, if the Vikings pass on Kalil, there's an outside chance he drops to 10, according to some mocks I've seen. Anyway, the Vikings passing on Kalil, or trading the pick for someone to take Trent Richardson before the Browns at four, could drop one of these players to the Bills. Any one of them would be a great pick- Claiborne as a great cover corner, Blackmon as a solid number two across from Stevie Johnson, and Kalil as a solidifying force on the offensive line. In terms of probability, Claiborne has almost no shot to be left at ten, while Blackmon and Kalil have better chances of dropping if all goes right for the Bills.
DEAR GOD NO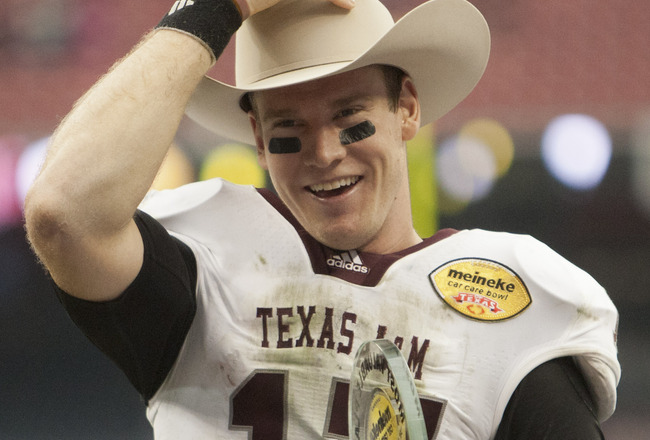 Look at this dumb Cowboy.
Ryan Tannehill, QB, Texas A&M
Look, the Bills could use a quarterback for the future (because Fitzpatrick isn't an elite or even very good quarterback), but it's not worth it to take this guy at number 10. For one, it would be a draft pick that wouldn't fill an immediate hole, making the team no better in the short run. More importantly, Tannehill is simply overrated. Every year the media hypes up one quarterback so much that they get drafted way too high, all in an effort to stoke 'drama' in the drafting process. Quarterbacks are the most popular position, and most important, so the media continues to hype and hype up players. Executives and GMs, under pressure to win as soon as possible, aslo fall into the trap of over-valuing mediocre quarterbacks. That's how Ryan Tannehill has gotten himself into the Top 10 of the draft. He's had barely any college experience at QB (he was converted from WR) and was barely talked about before the draft news cycle began. He's a product of hype, just like Blaine Gabbert last year and Jimmy Clausen (both disasters in the pros so far) before that. If he somehow gets past the Dolphins at eight, I hope to God the Bills pass on him. Not at ten. A quarterback for the future would be nice, but not this guy this early.
Any of the Defensive Line Prospects
A top ten pick, hopefully, is a starter or near-starter by Game 1 of the season. Any of the really good D-Linemen in this year's draft, though, would find themselves in a reserve role. That's not very good value based drafting.
REEEEEACH
Too Bad that #12 fella isn't dropping to ten
David DeCastro, OG, and Jonathan Martin, OT, Stanford
As much as the Bills could use some depth on their kiddie-pool-shallow offensive line, ten is a little too early for a guard, especially with some good tackles on the board. One of those good tackles is Martin, but he won't even be the best tackle available (probably) when the Bills pick. If the Bills can trade down, then Martin becomes intriguing, but not ahead of Riley Reiff (who we'll talk about in a little bit).
I mean, I guess I'm OK with it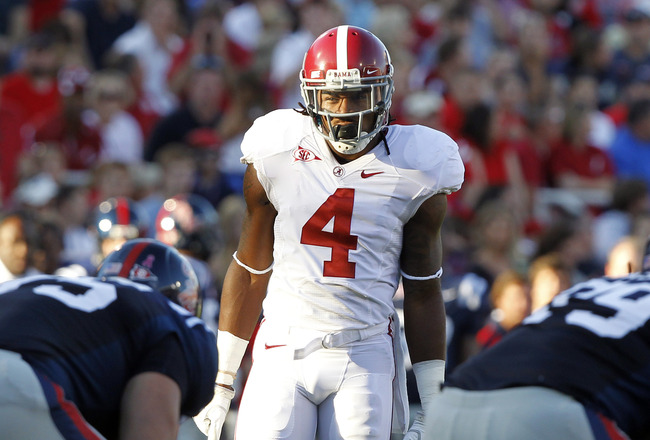 Good, but not necessary- trade bait?
Mark Barron, S, Alabama
Reports have recently surfaced that the Bills are really high on Barron. I'm suspicious of these because it's two days before the draft and this is the first I've heard about the Bills and this guy. Supposedly the Cowboys really want him, so this could just be the Bills trying to get someone to trade up for their pick. But let's say the Bills really do pick Barron. I mean, safety's not too high on the Bills list of needs, but this guy is a blue-chip safety and would give the Bills some depth in the secondary. In the nickel and dime packages, he could probably come in a guard tight ends and running backs. And that's important against teams like, say, the Patriots. This would be a Best Player Available type pick, and I'm not totally against it, but they could do better.
Could Probably Be Filled in Later Rounds
As you can see, some people are really psyched by this guy
Michael Floyd, WR, Notre Dame
I love Michael Floyd. I'm just gonna go out and say it. He's a big fast receiver who could be a serious deep threat for the Bills. The Bills offense was crippled last year by their lack of a deep threat. And the roster right now has no one to fill that role, unless Marcus Easley makes it to the field and can magically perform as a bona-fide deep threat. Donald Jones, last year's 'deep threat,' is way too small. Sorry. So anyway, getting a player like Floyd would be great for the Bills. I get the feeling, though, that the Bills think they can get a big, speedy deep threat in Round 2- there's Stephen Hill from Georgia Tech, Alshon Jeffery from South Carolina and Rueben Randle from LSU, all who could be available when the Bills pick in the second round. There are other positions of need the Bills could fill at ten. I wouldn't be against it, though, if the Bills pick up solid players at OT/G and CB in later rounds.
I Think You Could Do Better, Buddy, and You Feel The Same Way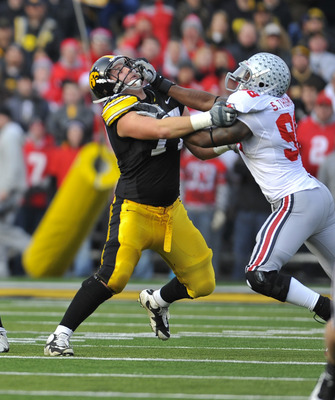 Buddy Nix says, "Meh."
Riley Reiff, OT, Iowa
There's been much said about Reiff's "short arms" as an indication that he won't be a great offensive tackle in the NFL. Nevermind that Joe Thomas has shorter arms and is a Pro-Bowler. I don't buy that. Reiff, though, projects as a pretty good offensive tackle. Not to say that the Bills couldn't use one of those right now, but there are better options for this pick, and the Bills feel like Chris Hairston can fill in this year at left tackle. It's never a bad idea to go safe, but there are a couple guys that should be available who would fill some holes and would arguably be better pros than Reiff. Buddy Nix, in pre-draft interviews, has basically said as much.
No Complaints- Great Job Buddy!
Stud.
Stephon Gilmore, CB, South Carolina
Luke Kuechly, LB, Boston College
Dre Kirkpatrick, CB, Alabama
Keuchly is a true three down linebacker, a player who could stay on the field in all situations-the worry with most linebackers is that they might have to come off in passing situations. Kuechly has been touted as a great coverage linebacker as well as tackler. The Bills are penciled in to start Nick Barnett, Kelvin Sheppard and Kirk Morrison at linebacker, and Keuchly could step in over the older, less speedy Morrison immediately as a Weakside Linebacker- well, that's the hope. Still, everything I've seen says that this guy is a safe top ten pick. With Keuchly in the linebacking core, the Bills would further solidify their defensive front seven into one of the better units in the league. No qualms with Kuechly at ten.
One of the two cornerbacks would make me extremely happy as well. Gilmore might not make it past Jacksonville at seven, but if he does, the Bills should snap him up, even ahead of Kuechly. The Bills pass defense has been atrocious for years. Terrence McGee, their nominal number one corner, can't stay on the field due to injuries. Drayton Florence is a decent second corner too often pushed into the number one role. And Leodis "Burnt Toast" McKelvin, for all his speed and occasional big plays, is horrible in single coverage and, as my nickname for him reveals, usually gets burnt by other receivers. Aaron Williams is still a work in progress, but it's hard to see him as better than a second corner. Taking someone like Gilmore or Kirkpatrick could hugely improve Buffalo's passing defense, important in the new pass-happy NFL.
I guess if I had to rank these three, I'd go Gilmore, Kuechly and Kirkpatrick. Kirkpatrick has had some off the field issues but still projects as a good cornerback. I don't think the Bills could go wrong drafting any one of these guys at ten and plugging them into the starting lineup.
So, to put a nice little bow on it, here's how I see it:
Super Unrealistic Best Case Scenario: Claiborne, Kalil or Blackmon
Best Case Scenario: Gilmore
In between, in order from Best to Worst: Keuchly, Kirkpatrick, Reiff, Floyd, Barron, Martin, DeCastro, D-Line Guys.
Worst Case Scenario: Tannehill
Well, that about wraps it up. That's every player I think the Bills could seriously take (I guess Cordy Glenn, OT, might be an option, but I think he's more of a trade down target). Just, please, let the Dolphins take Ryan Tannehill, so I can laugh at them.
Hoping to write more in the upcoming month and a half before I go away for the summer. Thanks for reading, random people who decide to read this.