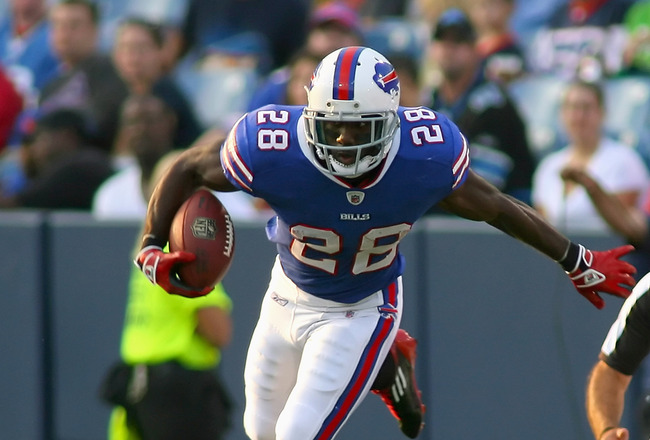 CJ Spiller steps into the spotlight this week
In my last post, I posited that the Bills were basically doomed from this point onwards, and little hope remained for a playoff run. Well, with the distressing news of Fred Jackson's season ending leg injury, I can pretty much say that there's no hope for this team. Jackson accounted for 40% of the offense this year. One player! 40%! If the Bills were struggling on offense before this, well, it can't get any better without Jackson. The only silver lining from this development is the chance for CJ Spiller, so far a total bust, to get a starter's workload in the backfield. Who knows, maybe he'll flash the talent that made him the #9 pick. It doesn't look good for the Bills from here, though.
Anyway, I failed to make my Thanksgiving picks because I was traveling, but I would've gone (cross my heart, hope to die) Packers win, Lions cover; Cowboys win, Dolphins cover; Ravens win, cover. Which puts me at 3-0 overall and 2-1 ATS for this week. Or I'm a big, filthy liar, but that's the honor code for you.
Last week I went 9-5 Overall and 5-7-2 ATS-continuing my streak of good picking overall and poor against the spread. To be fair, it's my first year really picking spreads, and a lot of these games were a lot closer than expected. Anyway, onto the rest of Week 12, in the post Thanksgiving hangover.
Arizona at St. Louis (-2.5)
Um...(plays eenie-meenie-minie-moe, throws at a dartboard blindfolded...) I'll take the Rams here? Honestly, both of these teams are awful, I wouldn't let any of my loved ones watch this game, and it's near impossible to pick between the two, like picking between spending time in a Turkish prison or the Gulag. In the end, no one is a winner.
Pick: Rams win, cover
Buffalo at NY Jets (-9.5)
The Jets aren't even that good of a team, as evidenced by last week's loss to the Broncos. Their offense is painful- they can't run and Mark Sanchez is still nowhere near a good quarterback.The defense is still very good, but not always enough to pick up the slack for the offense. And I still think they'll crush the Bills in their current state- injured and exposed on both sides of the ball. The Bills will lose this and we can stop pretending they're in the playoff race.
Pick: Jets win, cover
Cleveland at Cincinnati (-7.5)
The Bengals have lost their last two games to the elite of the AFC North, but have shown a lot of resolve in keeping both of those games close; right now, they look like a wild card team. The Browns are mediocre and boring on both sides of the ball; there's just nothing interesting or dangerous about this team. They were good enough to beat an offensively defunct Jaguars team, but I can't see them doing much damage against a stout Bengals defense and a talented offense.
Pick:Bengals win, cover
Houston (-6.5) at Jacksonville
Houston has lost Matt Schaub for the rest of the season, and now the revered (for his partying) Matt Leinart steps in to take over what looks to be a playoff bound team. Fortunately for the Texans, he won't have to do much- the Texans defense is really good this year, and the run game is what makes the offense work well. Plus, it doesn't hurt that big target Andre Johnson is coming back, giving Leinart a big safety blanket if he needs it. Jacksonville, for all its quality on defense, can't do anything offensively. So even if Leinart crashes and burns, the Jaguars won't be able to benefit from the wreckage, and the Texans should be fine relying on Arian Foster anyways.
Pick: Texans win, cover
Carolina (-3.5) at Indianapolis
For all the excitement Cam Newton has brought to the Panthers, he's only provided them with two wins (although their porous defense is much to blame as well.) Lucky for him, the Panthers face off against the Colts, a winless team that seems close to resigned to not winning till 2012, with either Peyton Manning or Andrew Luck under center. Even with an awful defense on his side, Cam should be able to get it done against the listless Colts.
Pick: Panthers win, cover
Tampa Bay at Tennessee (-3.5)
Both of these teams confuse me; I can't tell what their relative quality is. Both have some offensive issues and mediocre defenses, but manage to hang around in games. Matt Hasselbeck is still the starter for the Titans, despite a Jake Locker appearance last week. As long as Hasselbeck and Chris Johnson are the main players in the Titans offense, I don't trust them much, while Tampa has a young nucleus of offensive players that have struggled this year, but could be breaking out right now. So I'll go with the Bucs here.
Pick: Bucs win, cover
Minnesota at Atlanta (-9.5)
Minnesota is without Adrian Peterson, far-and-away their best offensive threat, and their passing defense is pretty awful. Atlanta has righted the ship after a rocky start, playing their methodical offense and just good enough defense to pull out victories. It ain't always pretty (Julio Jones has brought a modicum of flair to the offense), but against a weak Vikings team, it should be more than enough to win.
Pick:Atlanta wins, cover
Chicago at Oakland (-3.5)
Even without Jay Cutler, the Bears have an astonishingly good special teams unit and a great defense. The offense was always predicated on Matt Forte, so Caleb Hanie's biggest responsibilities will have to be handing it off to Forte or throwing screen passes to Forte. The Raiders have risen above the squalor of the AFC West, but I still don't see them as a great team; their recent wins haven't been against quality teams, and they haven't been dominating in either win. The Bears can survive without Cutler, and this is the start.
Pick: Bears win, cover
Washington at Seattle (-3.5)
Yes, the Redskins were surprisingly competitive last week in taking the Cowboys in overtime, but can you really expect Rex Grossman to be consistently good? No, especially not on the road at the loudest stadium in the NFL, that of the Seahawks. The Seahawks have found an offensive identity in giving Marshawn Lynch the ball 30 times a game, no matter what, and hoping Tavaris Jackson can string together a couple plays of offensive competency. And their defense is OK. The Redskins have a bad defense and a potentially catastrophic offense (depending on which Rex shows up). I'll take consistent mediocrity over potential for mayhem.
Pick: Seattle wins, covers
New England (-3.5) at Philadelphia
The Eagles are yet again without Michael Vick, and while Vince Young's "Tebow" impression was cute last week, I don't see him being able to match an offensively gifted Patriots team. While the Bills defense has gotten worse and worse, the Patriots defense has managed to get better as the season has progressed- the sign of a true contender. The Eagles playoff chances will take a nosedive in this one, while the Patriots will move closer to an AFC East crown.
Pick: Patriots win, cover
Denver at San Diego (-5.5)
Tough to trust either team, as Philip Rivers has been terrible this season and Tim Tebow can't play quarterback well for more than five minutes. The Chargers are all hype with no substance, while the Broncos have a stingy defense to match their overhyped quarterback. The Chargers need this to stay alive in the AFC West, and have to put together a complete game sometime; the Broncos have gotten a little lucky these past five games under Tim Tebow. Something's gotta give, so I give it to the Chargers, though reluctantly.
Pick: Chargers win, Broncos cover
Pittsburgh (-10.5) at Kansas City
Tyler Palko is still at QB for the Chiefs, and he led the Chiefs to three whole points last week against an improving, but still weak, Patriots defense. Now he faces the Steelers defense, and they won't be as forgiving (if you consider a field goal forgiving). The Steelers also have a high powered offense as good as the Patriots, and the Patriots were able to put up 34 points against the Chiefs. All told, this should be easy sledding for the Steelers as they challenge the Ravens for the AFC North crown.
Pick: Steelers win, cover
NY Giants at New Orleans (-7)
New Orleans is rested, coming off a bye, and have what is probably the second best offense in the league (behind Green Bay's.) The Giants are coming off a heartbreaking loss to the Eagles and have shown a propensity for infuriating inconsistency. I don't think their corners will be able to contain the Saints offense, and the Saints defense, far from world beaters, should be good enough to stop a Giants offense that's in a semi-funk. You never know, though, with the Giants, so I'll take them to cover, in case they decide to be competitive.
Pick: Saints win, cover
Season: 106-57 Overall, 82-77-4 ATS (counting Thanksgiving games)